Guardian August 26 2008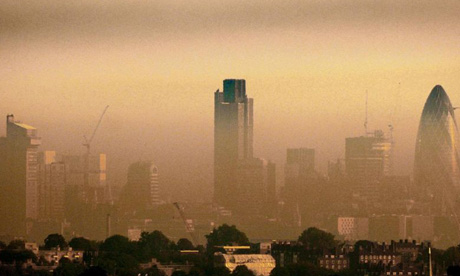 High levels of air pollution in London have forced the government to seek an urgent meeting with the mayor, Boris Johnson, to avoid the risk of unlimited fines from Europe.
The air quality minister, Jonathan Shaw, has written to the mayor offering the expertise of officials at the Department for Environment. The letter, written last month and obtained under freedom of information laws, says that Britain plans to ask for an extension until June 2011 to meet its legal requirements.
Britain has been breaking EU air quality laws on particulate pollution for three years and in July the EU demanded a detailed plan of how it will comply.
In addition, the new EU air quality directive will force the UK to reduce nitrogen dioxide pollution on some of the capital's busiest streets by more than a third by the end of 2009, in order to move towards World Health Organisation guidelines. If air quality improvements are not achieved quickly, the UK could be taken to the European court. The court has powers to impose unlimited fines.
"The objective was due to be met in 2005 but in recognition that nearly all member states are finding this very challenging ... [the government] intends to apply for this compliance flexibility," Shaw wrote. "My officials wish to work with your officials. We should not underestimate the scale of the task and we will also need to develop further national as well as local measures."
Air pollution in big cities is worsening as motorists switch from petrol to diesel to save fuel. Particulate pollution from diesel engines is linked to respiratory and cardiovascular diseases and asthma. Air pollution causes an estimated 32,000 premature deaths a year in Britain and between 157,000 and 319,000 people in London are exposed to nitrogen dioxide levels above EU limits, the government says.
"The government has been aware of the problem since 1999 but has taken no action," said Simon Birkett, who chairs the Campaign for Clean Air in London. "These obligations can only be met if long overdue action is taken now."
However, the government is in difficult political territory because taking such action will depend on Conservative party cooperation and the backing of Johnson, who in the three months since he was elected has threatened to ditch several measures that have improved air quality, including the western extension of the congestion charge and twice yearly taxi checks.
In addition, he is backing the expansion of London City airport and considering a road bridge over the Thames in east London, both of which would worsen pollution in the capital.
It is expected that London will have to introduce additional low emission zones with tighter standards than the existing zone, which covers only large vehicles, and could also demand that vehicles fit pollution abatement equipment.
It will also be challenging for the government to meet the EU target for nitrogen dioxide. Average annual concentrations in parts of central London are more than double the standard set in 1999, which became law earlier this year and requires compliance within 16 months.
The mayor's office said he was fully committed to working with the government. "He is also working, through Transport for London, to cut emissions from transport through a shift to walking and cycling and the use of new technology. He has committed £1m for the development of less polluting taxis, while by 2012 all new buses on the streets will have lower emission hybrid engines."

UK Lockdown point of view
Another excuse for the EU-SSR to swindle money for the construction of their police state using their links with the fake environmentalists (enviro-fascists/green mafia)
to justify removing our national sovereignty and our rights to set our own laws, we cannot allow the EU-SSR to hijack serious issues and use those chosen issues as a front to convert our society into a police state, this EU must be exposed and shown for what they really are.