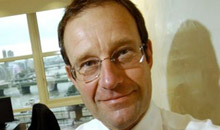 Richard Clive Desmond (born 8 December 1951) is a British publisher, current owner of Express Newspapers and founder of Northern and Shell plc, which also publishes OK! Magazine, new! Magazine and Star Magazine. Express Newspapers publishes the Daily Express, Sunday Express, Daily Star Sunday and Daily Star. Northern and Shell is also the owner of some of the most popular adult television channels in the UK, the Fantasy Channel and Red Hot TV.

Publishing career

Northern & Shell was the first company to move to the revamped Docklands and the Princess Royal opened the offices. When the company moved to the Northern & Shell Tower Prince Philip did the honours. Desmond's biggest publishing deal was the launch of celebrity magazine OK! in 1993.

After buying Express Newspapers in 2000 for £125m, Desmond became embroiled in a bitter feud with Viscount Rothermere, publisher of the Daily Mail, the rival of the Daily Express, largely derived from stories relating to Rothermere's private life. The Daily Mail ran several articles describing Desmond as a pornographer and Private Eye christened him "Dirty Desmond". Mail editor Paul Dacre, despite an eventual truce between the competitors, commented on Demond in the British Journalism Review (2002):
" Richard Desmond is an appalling man. He is bad for British journalism. He's bad for public life and he's bad for civilized standards. For Tony and Cherie Blair to court him so assiduously speaks volumes for their moral elasticity. As long as I've got energy in my body, I'm going to devote everything to try to see him off. "

In April 2004, the Daily Express shifted its support from Labour to the Conservatives. On the same day Desmond caused a scandal by accusing the Daily Telegraph, which was then considering accepting a takeover offer by the German Axel Springer group, of giving in to Nazis. Desmond reportedly harangued The Daily Telegraph's chief executive and associates in faux German at a business meeting and imitated Adolf Hitler, before erupting in a tirade of four-letter words. On 19 March 2008, Express newspapers were forced to pay the parents of missing four-year-old Madelaine McCann £550,000 damages and publish a humiliating apology on the front pages of the Daily and Sunday Express, the Daily Star and the Star on Sunday after publishing more than 100 defamatory articles about the couple.

Business dealings with the New York-based Gambino mafia organized crime family

The Village Voice has reported on Desmond's business dealings with the New York-based Gambino mafia/organized crime family. According to press report, Desmond's swindle with the Gambino's resulted in one of his senior employees being "worked over" and slashed in the face with a razor blade by Gambino mobsters while in New York. According to the article, Desmond expressed little concern for the injuries his employee sustained in the attack.